Since it's officially fall, we have to ask the question on every backcountry traveler's mind – what will this winter look like in the Pacific Northwest?
ENSO and Winter in the Pacific Northwest
There are quite a few large scale atmospheric-ocean patterns and related indices that climate prediction forecast models and human forecasters use to get a sense for the months ahead; ENSO, MJO, and ONI to name a few. The most well-known and predictive index is the ENSO (El Nino – Southern Oscillation) cycle, a measure of sea-surface temperatures in the eastern equatorial Pacific Ocean. ENSO phases include neutral, El Nino, and La Nina. Here in the U.S., we rely on the Climate Prediction Center (CPC) to interpret forecast models and issue seasonal forecasts.
Now for the good part – a La Nina Advisory has been issued by CPC for the 2020-2021 winter with a borderline moderate La Nina the most likely phase. That usually loads the dice toward snow and cold in the Pacific Northwest over the entire winter. From the CPC: " In summary, La Niña conditions are present and are likely to continue through the Northern Hemisphere winter (~75% chance; click CPC/IRI consensus forecast for the chance of each outcome for each 3-month period)."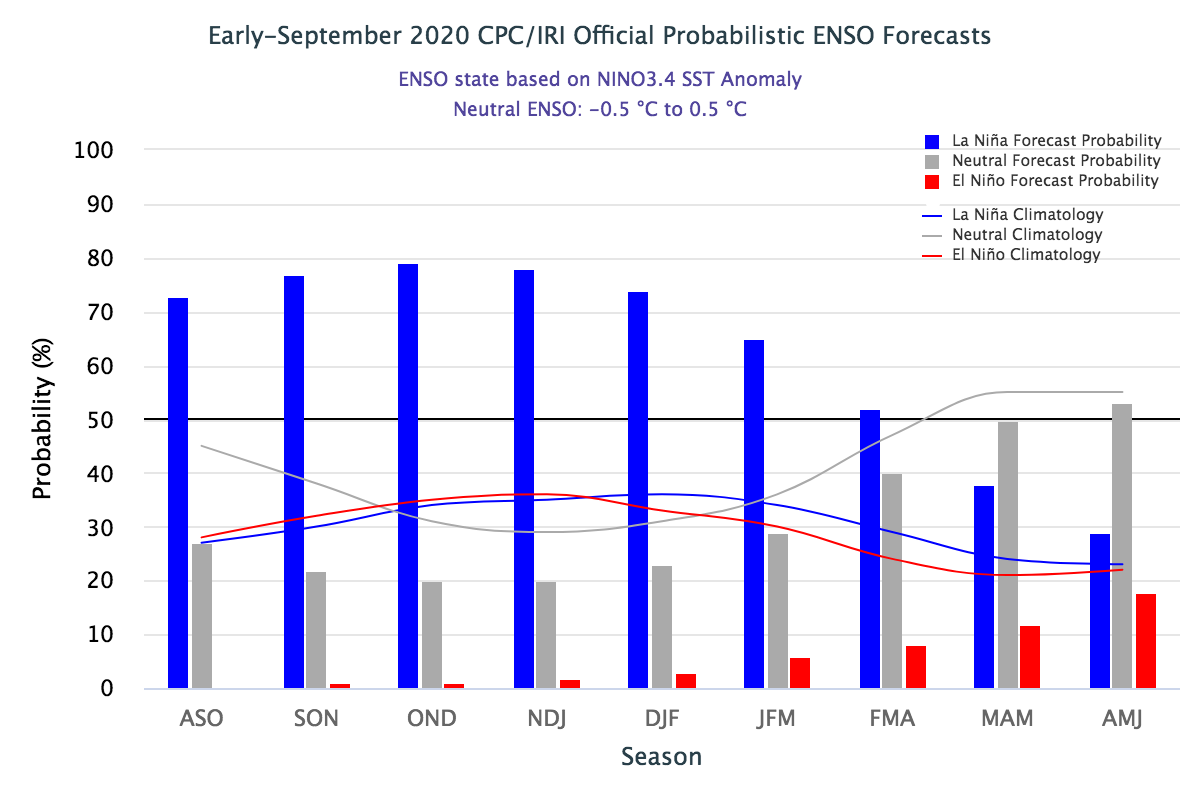 When do ENSO conditions have the most impact on our weather?
Typically, the ENSO cycle carries the most weight in regards to our weather mid to late winter. You can see this reflected in the 3 month CPC forecast, as the fall outlook tilts from warmer and wetter than normal in Oct-Nov-Dec to cooler and wetter than normal in Dec-Jan-Feb. It's not that La Nina conditions are not present in the fall; it just has less influence on the fall forecast. Read more on La Nina's impact on winter weather patterns across North America in the latest ENSO blog post.
Past Snow Depth during La Nina Years (note Snow Depth does not mean Total Snowfall!)
NWAC records the snow depth on the 1st and 15th of the month during the winter at select mountain sites. When we combine our more recent records with older records from ski areas and WSDOT, we have a historical snow depth record at 11 sites that stretches back decades – even to the 1920's in a few locations. NWAC is currently working with Tableau to create a more modern visualization tool to explore this historical data. In the meantime, you can find the current graphs for all 11 stations on the Washington State Climatologist webpage.
Looking at the graphs below, you can see the average La Nina winter has deeper snow depths by late winter at both Mt Baker and Crystal Mt (~15-20% on 3/1 respectively). In short, you should be reasonably hopeful for deep and plentiful snowfall this year!
La Nina (all events) Mean Snow Depth at Mt Baker – Heather Meadows
Mean Snow (1971-2000) Snow Depth at Mt Baker – Heather Meadows
La Nina (all events) Mean Snow Depth at Crystal Mt Base
Mean Snow (1971-2000) Snow Depth at Crystal Mt Base
The last time La Nina conditions occurred was during the winter of 2017-18. Check out our old school climatological snow depth table from March 1st, 2018 – you can see snow depths were running well above normal at most sites.
More fine print on seasonal outlooks:
We don't have a deep historical data set for ENSO phases, especially La Nina. Sad but true, below normal winters have occurred during La Nina, it's just unlikely.
Seasonal Forecast Skill
Predictive accuracy in the lower 48 states for temperature peaks in the late winter with a secondary peak in the late summer - and is lowest in the late spring and late fall.
For all models precipitation forecasts are generally less skillful than temperature -- with marginal skill for all tools even in their best seasons and locations under normal circumstances. However when strong El Niño or La Niña conditions are present - precipitation skill can be as high as temperature skill for cool season forecasts for a number of areas of the U.S. - including the southern third - the northern rockies - the high plains and the Ohio valley. Strong la Niña conditions imply the possibility of moderate precipitation skill for some parts of the warm season as well.
Source: https://www.cpc.ncep.noaa.gov/products/predictions/long_range/tools.php